With the crackdown on the Turkish academies launched since the beginning of 2016, 452 Academics for Peace have been dismissed from their jobs or forced to resign and retire. These academics did not only loose their jobs but they are also stripped of the civil rights and virtually banned from getting re-employed in the private sector as well.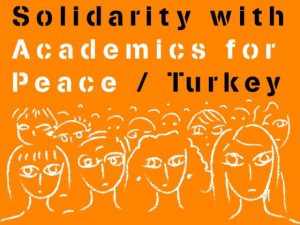 Several organizations including Unions are trying to put together funds to make up for lost incomes, help living costs as well as legal costs. As HarekAct, we are in support with the Academics for Peace and would like to disseminate the information about two crowfunding campaigns as follows:
Solidarity Fund of Education International (UAA)
Bank name and address:
ING Bank Avenue Marnix 24,1000 Brussels, Belgium
IBAN: BE05 3101 0061 7075
SWIFT/BIC: BBRUBEBB
Please indicate "UAA Egitim Sen" in communication.
Crowfunding campaign by the Research Institute on Turkey
"We urgently request donations to establish an emergency fund for Academics for Peace to support the faculty who lost their jobs, pensions, and their right to travel abroad after the recent crackdown targeting academic freedom in Turkey. This fund will be made exclusively available to purged faculty through close collaboration with the union Egitim-Sen and other associations that are actively assisting the purged scholars at the local and international level.
Help us reach our initial goal of $105,000. We will be able to support about 35 academics for a period of 6 months with minimum wage in Turkey (approx. $500) with this initial fund. Your donation is tax deductible to the fullest extent allowable by law. No goods or services are provided in exchange for this donation."
Proceed to crowdfunding campaign here