19th August – 1st September 2019 (This digest covers a two week period)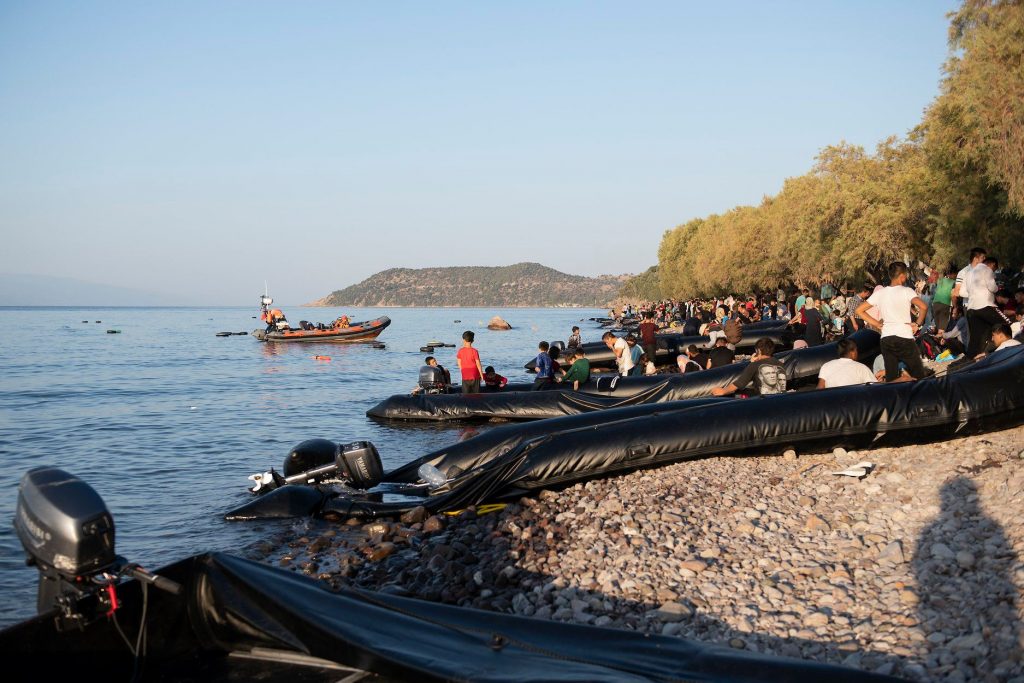 Increasing arrivals of migrants to the Greek Aegean islands | Greece's response to the rise in arrivals | New report on mistreatment of asylum seekers in Greece | Afghan minor killed in Moria | Updates on the Deportations of Syrians from Turkey | Syrians walk towards Turkish border in protest against shelling by Syrian and Russian forces | Sea Rescue by Turkish Merchant Vessel | Perspectives
News&Reports
Increasing arrivals of migrants to the Greek Aegean islands
The number of sea crossings to the Greek Aegean islands reached a peak last week. On 29 September 13 boats, carrying a total of 547 refugees, arrived on the island of Lesvos almost simultaneously. Among them were around 250 children, according to Aegean Boat Report. The majority of the people arriving were Afghans. Nasim Lomani wrote an interesting commentary connecting the arrivals to recent and historical developments in Afghanistan:
"Why? What's happening? What's the new change in Afghanistan? Why Afghans are migrating one more time?… Yes something is happening, a horrible thing is happening right now in Afghanistan. Americans are making a dirty "peace deal" with Taliban and the nightmare of having again a terrorist regime of Taliban in power pushing thousand of Afghans to leave the country."
Sea arrivals in Greece are about four times the number who have reached Italy and Malta combined this year. So far this year, over 26,000 people have successfully crossed the Aegean Sea and reached Europe.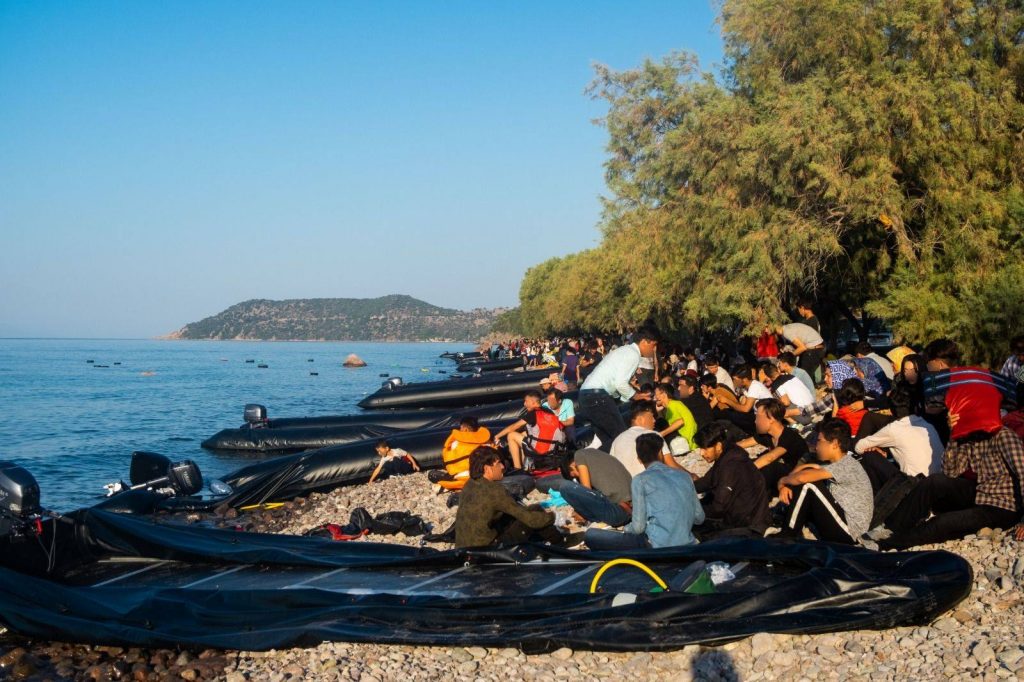 Greece's response to the rise in arrivals
Meanwhile the new Greek government has announced seven measures to respond to the increase in arrivals. Among others, Greece wants to increase border control with the help of Frontex and NATO, as well as deploying ten more speedboats to the Coast Guard in order "to intercept suspected smuggling vessels heading towards Greece from neighboring Turkey."
Another very worrisome development is Greece's announcement that they will resume deportations to Turkey. The Council for National Defence and Security said that the Second Degree Asylum Committees would be abolished. According to comrades from Greece, this would not just mean the abolition of a review process for rejected applications, but that all migrants with rejected application would have to be held in detention centers until deportation. That could mean that, in addition to the already existing detention camps on the Greek mainland, camps like Moria would be transformed into closed detention centers.
At the beginning of the week 1,500 people were transferred to the Greek mainland from Lesvos, in an attempt to take some pressure of the overcrowded camps on the island.
New report on mistreatment of asylum seekers in Greece
Refugee Rights in cooperation with other NGOs working in legal support for migrants in Greece, such as Equal Rights Beyond Borders or Advocates Abroad have published a new report on mistreatments of asylum seekers in Greece.
Afghan minor killed in Moria
ECRE writes that "Refugees and migrants currently spend months in severely overcrowded conditions in the Reception and Identification Centres (RICs) of the Eastern Aegean islands. In Moria, there are currently over 8200 refugees and migrants, almost three times higher than the camp's capacity. The situation in the camp is particularly acute for children. 600 children live in Moria alone, while the safe zone for unaccompanied children only has a capacity of 70."
A 15-year-old Afghan minor was fatally stabbed by a compatriot in Moria camp in Lesvos. Two other minors were injured during the fight, one of which reportedly required life-saving surgery. An Afghan teenager was arrested by Greek police as the main suspect. The UNHCR has in response called on the Greek government to take action and urgently transfer unaccompanied minors to a safe place.
According to ECRE, "the Greek government has failed to implement adequate safeguards for children in Greece, not only on the Eastern Aegean islands, but across the country. Over 1100 children are in RICs and detention facilities in Greece, the highest figure since early 2016. Children continue to be detained in "protective custody"."
Updates on the Deportations of Syrians from Turkey
As announced in our last news digest, the English version of the report by the 'We Want To Live Together Initiative' on the systematic deportation campaign of Syrians from Turkey is now available.
On 27 August the Governorate of Istanbul announced that 16,423 persons have been detained in Removal Centres across Turkey as part of a crackdown on refugees residing in Istanbul without being registered there. Istanbul is not among the satellite cities open to new international protection applicants and has suspended registration of newly arriving Syrian refugees until further notice. Temporary protection holders registered in other provinces and residing in Istanbul were instructed in July to return to their assigned provinces by 20 August 2019. This deadline has now been extended to 30 October 2019.
Syrians walk towards Turkish border in protest against shelling by Syrian and Russian forces
Following a military offensive by Syrian and Russian government forces and intensified airstrikes in which hundreds have been killed in North Syria, hundreds of Syrians marched towards the border gate to Turkey, 'Bab Al-Hawa'. Protesters called for Turkey to either open its border or demand an end to the government offensive. The bombing campaign in Northern Syria by the Assad regime and its Russian and Iranian allies between late April and August 2019 has displaced more than 550,000 people, half of them children according to the UN Office for the Coordination of Humanitarian Affairs. In light of these numbers, AlJumhuriya writes that Northern Syria currently faces the largest wave of collective displacement witnessed anywhere this century.
"Humanitarian organizations operating in the area say most of the camps that exist – whether official or ad hoc – are accommodating many multiples of their capacity; something which had already been the case before the latest displacement made matters worse still. These camps, some of which have been expanded by local governance councils in cooperation with international organizations, have been unable to contain, let alone reduce, the scale of the humanitarian catastrophe, especially given the continued bombardment and other military operations by the regime and its Russian partner targeting an ever-widening range of territory."
In response, the Turkish border guards fired warning shots into the air and tear gas at the protestors. The demonstrations happened shortly before Russia announced a ceasefire. At the same time Turkish Interior Minister Suleyman Soylu again pointed to their plans to shelter newly displaced Syrians in humanitarian camps along the border inside the Idlib province. But this is still under intense shelling by Assad's regime.
Sea Rescue by Turkish Merchant Vessel
Interestingly, while Turkey is 'protecting' their borders against refugees fleeing acute bombing and the state-run news agencies are tuning into the violent rhetoric against Syrians, Turkey's Daily Sabah newspaper is celebrating the rescue of African migrants by a Turkish merchant vessel off the Spanish canary islands.
Perspectives
The Atlantic published an insightful opinion piece on the arrests and deportations of Syrians in Turkey, arguing that the EU had outsourced the burden of migration to Turkey and was therefore complicit in the crackdown against Syrian refugees.
Bianet published a comprehensive interview with Pırıl Erçoban from Mülteci-Der and Andrew Gardner from Amnesty International on the effect of Turkey's recent refugee policies.