Via The Guardian [16.10.2018] – With tension mounting in Idlib, people trying to flee across the border are being given the choice of detention or waiving their right to asylum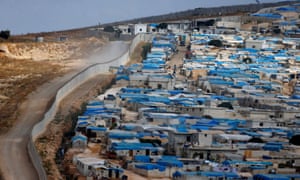 Tareq* can recall in detail each of the 22 times he climbed over the concrete border wall, dodged a flurry of bullets, and sprinted as fast as he could – until Turkish border guards caught him and turned him back.
On his 23rd attempt, the soldiers drove the 26-year-old Syrian to a police station called Branch 500 in Hatay. There they presented him with a choice: either stay in prison – for how long, they wouldn't say – or sign a paper and walk free.
"It's not like they're physically putting a gun to your head, but you have no other option," Tareq says. He signed and the next day he was driven across the border and dropped back where he had started, in Idlib.
Continue reading The Guardian on unlawful deportation from Turkey to Syria →