8th – 14th of July

Palestinian refugee stranded at Istanbul Airport for more than six weeks | Violent and illegal pullback by Turkish Coast Guard in the Aegean Sea | Increasing violence by Coast Guards in the Aegean | Racism and hatred again Syrians in Turkey | Research paper on 'Border policies and migrant deaths at the Turkish-Greek border' published
News & Reports
Palestinian refugee stranded at Istanbul Airport for more than six weeks
A Palestinian refugee from Syria, Mohamed Ajlani Younes, has been stranded at Istanbul Airport since 26 May and is currently at risk of imminent deportation to Lebanon. According to Amnesty International he has been living in the airport with no access to adequate food, natural light or fresh air for more than 6 weeks. He fled the Syrian war in 2012 to Lebanon, where he lived in Shatila refugee camp with his wife and two children. He recently left Lebanon to come to Turkey out of fear of being send back to Syria. When he entered Turkey on the 26th May, he was stopped at the airport and denied entry for allegedly travelling with a fake passport. He then applied for asylum, expressing his fears about being returned to Lebanon. According to Amnesty International a deportation to Lebanon would put him in danger of being sent to Syria, where he would be at risk of serious human rights violations.
Violent and illegal pullback by Turkish Coast Guard in the Aegean Sea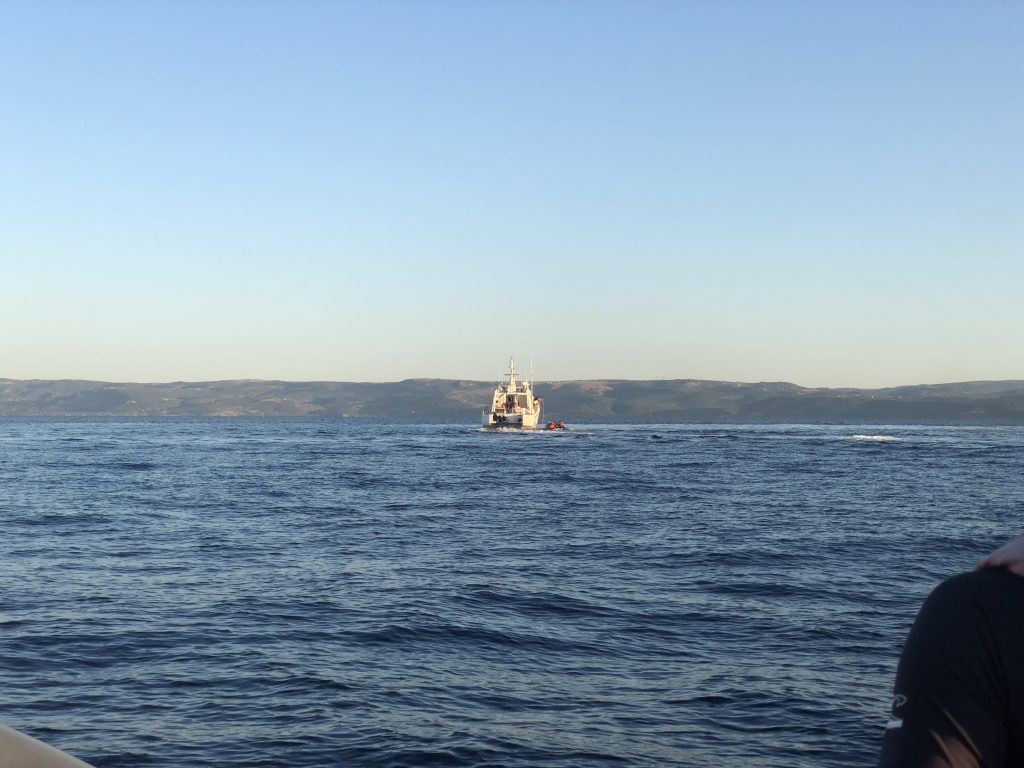 The aid organizations Refugee Rescue & Lighthouse Relief, who operate search and rescue operations in Lesvos have documented a violent pullback by the Turkish Coast Guard in the North of Lesvos on 2nd July. A refugee boat had already entered Greek territorial waters, when the Turkish Coast Guard approached the boat at high speed and performed a number of dangerous manoeuvres, subsequently forcing the boat to return to Turkey. Giannis Skenderoglou, the boat crew coordinator, recalls the incident:
"The dinghy had just entered Greek waters when the Turkish Coast Guard started to approach from the East. The dinghy didn't stop and turned, heading eastwards, in an attempt to evade the TCG vessel. The TCG vessel began circling the dinghy, causing high waves, which could have easily capsized the small rubber boat. At this point, the refugees began screaming in panic; we could hear their screams. Then, by colliding with the dinghy on the starboard side, they forced the dinghy back into Turkish territorial waters. After more life-threatening maneuvering, the coast guard officers began violently throwing their ropes at the passengers of the dinghy in an attempt to injure and distress them. After that, two people jumped in the water in a desperate attempt to evade being brought back to Turkey. They too were screaming…"
Increasing violence by Coast Guards in the Aegean
Just a day after Refugee Rescue went public with evidence of the pullback, the WatchTheMed Alarm Phone announced via Twitter that they had been in contact with people in distress who reported that Turkish authorities had shot at them, beat them, taken their engine and pulled them back to Turkey in the Northern Aegean Sea.
The WatchTheMed Alarm Phone published their regional analysis on Greece and the Aegean Sea at the end of last month, in which they reported increased attacks by 'masked men' in Greek territorial waters, which were followed by pullbacks by Turkish authorities. Their report gives insights on the current situation at sea, crossings and shipwrecks, the situation on the Greek islands, particularly on Samos, as well as the blockade of the Mare Liberum monitoring vessel.
Racism and hatred again Syrians in Turkey
Throughout our last digests we have been updating on incidents of racism and various violent attacks against Syrians in Turkey. Al-Monitor has published another interesting commentary on the topic. The author writes that: "As the economic downturn continues in Turkey, observers fear that simmering tensions between Syrians and their host communities will escalate if politicians do not address the growing anti-refugee sentiment." Rather, what can be observed is that politicians of both the CHP and the AKP party are fuelling these xenophobic sentiments through their election campaigns and official speeches. On Saturday, president Recep Tayyip Erdoğan said that Turkey was preparing a series of policy changes regarding the country's Syrian refugees, including the deportation of criminals and ending free healthcare services:
"We are preparing to take new steps. We are going to encourage them to return to their countries. We are going to deport those who have committed crimes. Furthermore, we foresee a contribution payment from them in exchange for the health services provided to them."
Turkey to deploy S-400 air defense missiles at the Syrian Border 
The first Russian S-400 air defense missiles arrived in Turkey last week. The purchase of the Russian air defense system by NATO member Turkey has been controversially discussed and harshly criticized by not only the US but also Germany and other European countries. The US claims that the Russian missiles are incompatible with NATO systems and a threat to their F-35s warplanes, and have subsequently threatened sanctions. Turkey has announced that they are planning to deploy the initial battery to the provicne of Şanlıurfa along the Syrian border.
Research
Research paper on 'Border policies and migrant deaths at the Turkish-Greek border' published
Orçun Ulusoy, Martin Baldwin-Edwards and Tamara Last have published a paper on 'Border policies and migrant deaths at the Turkish-Greek border' in 'New Perspectives on Turkey'. They analyze "the impact of developments in Turkish migration management policy and changes in management of the Greek-Turkish border on border deaths prior to the 2015 mass inflow of refugees." They find that the "chaotic mix of national politics, policy development and law enforcement practices, flexible smuggling networks, and Frontex operations" contributed to the high number of clandestine crossings in 2015 and 2016, which coincided with a high number of casualties. To read the full paper, click here.