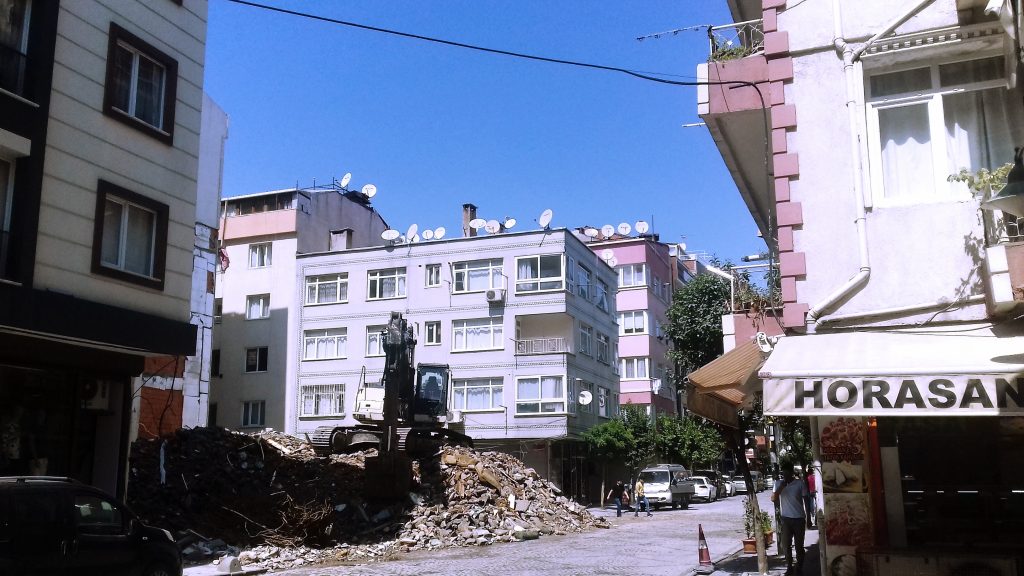 Written by Helen Mackreath
Zeytinburnu district in Istanbul hosts many different life circumstances, constraints and possibilities which collide in uneven, fragmented often contradictory ways. It has been home to a substantial Afghan population since 1983, when the Turkish government invited in a few hundred people during the conflict with the Soviet Union, mainly the Turkmen and Uzbek Afghans who Turkey considers 'ethnic brothers'. Today the population is a mix of migrants (recent, first and second generation) including Afghans, Turkmen, Uighurs, Kazaks, Tajiks, Iranians, Pakistanis and Syrians, economic migrants from other parts of Turkey (Adana, Urfa, Trabzon, Konya), and Turkish citizens who have been living in the neighbourhood for many decades. The bowels of the street to the sky are marked by capital transactions, which create counterposing lifestyles existing side-by-side. The steady erection of luxury sea-view million lira apartment blocks are intended to attract Arab investors to the area (a $250k property purchase buys you a Turkish passport, and while Iraqis are currently the country's biggest investors, these buildings in Zeytinburnu, one emlakçı (estate agent) told us, are being aimed at Gulf investors). They are being constructed alongside unstable infrastructure constructed illegally in the 1970s where multiple families now live together, and others of migrant dormitories where beds are rented per hour. According to another Afghan emlakçı working there, "Normally if an apartment rent is 1200 (TL), it costs 1500-1700 (TL) for them [foreigners] because two families, between 10 and 12 people, will stay in one apartment [2 + 1 apartment for five people]." Below the street, visible in vents and airways along the gutters, the clicks of textile machines signal the exploited, mainly migrant, workforce.
Before the introduction of city-wide municipality regulations in June 2019 which stated that 75 percent of street signs had to be in Turkish there were many Farsi and Arabic letters lining the streets, which have now been removed; images of Afghan style haircuts, food (huge Afghan melons are imported by air, sold for 60 Turkish lira), Afghan and Turkmen flags still remain visible. According to the Mukhtar of Nuri Paşa neighbourhood, one within the district, there are "Afghan, Uighur lokantas, Syrian bakkals and market. The butcher in front of us is Afghan. If you go down the street there are Afghan Uighur restaurants. If you exit Çarşamba Pazar there are Syrian real estate agents, bakkals and grocery stores. There are all kinds of trade, they usually shop from each other." The Mukhtar invokes the idea of a cosmopolitan and harmonious community. But global structural tendencies are also intruding into the space, through capitalism, the businesses which have been created by repercussions of global migration management regimes (from smuggling to humanitarian), the internalisation of different visions of hospitality, belonging, nationalism, and the increasing insecurity and anxiety prompted by the heightened deportations which had started to intensify in the weeks around the time of the interviews in mid September 2019.
Continue reading

The Politics of Colliding Worlds in Zeytinburnu