Kom News – While the US wall on the border to Mexico has received plenty of attention sparking criticism and protests, Turkey's construction of a 3 meter high and more than 900 kilometre long wall on the border to Syria has proceeded without much notice. Building of 367 kilometers of the wall has been completed as of January 2017.
"The wall will be completely finished by March or April. The costs are not high, and we are building extra border security roads behind it, as well as towers, which are crucial for our security," TOKI president Ergun Turan told Reuters in December.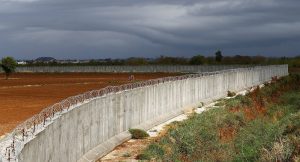 Military sources report the wall has already significantly curbed smuggling and "irregular" crossings. While over two thousand cases of smuggling were recorded in 2015, the figure dropped to 76 in 2016. However, regular trade and business by locals that used to provide income for many families living in the area has come to a halt, and refugees are reportedly suffering violence from Turkish border guards.
Human Rights Watch reported Turkish border guards were shooting and beating Syrian asylum seekers trying to reach Turkey, resulting in deaths and serious injuries. After Ankara's controversial migration deal with the EU, intended to curb migration flows to Europe, violence against Syrian refugees has increased.
Read the full article here