The Migrant Solidarity Network Ankara published a statement regarding the arrest of Gabriele del Grande in Hatay at the Syrian-Turkish border. Del Grande is a critical journalist, filmmaker and most importantly a fellow activists advocating for migrant rights:
"Gabriele Del Grande is an Italian freelance journalist. He is the founder of the blog Fortress Europe, where he documents facts, data and stories about the thousands of migrants arrested, deported or dead in the attempt to reach Fortress Europe. In 2014, he made the documentary "On The Bride's Side" ("Gelin Tarafı", "Io Sto Con La Sposa"). The film tells the real story of five Palestinian and Syrian refugees who landed in Lampedusa and then staged a fake marriage in order to reach Sweden. Gabriele launched a solidarity call once again, but this time he is in need of solidarity.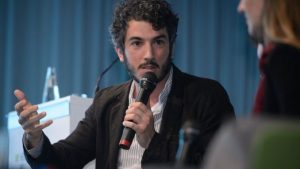 Ten days have passed since the police in the Hatay province has detained him because he was in an area of the country where access is not allowed. He entered Turkey on April 7 and the reason for being in Hatay was collecting material for his new project: a book entitled "A Partisan Told Me". The idea of the work is offering a mix of geopolitical insights and storytelling based on interviews with Syrian refugees. Its objective is telling the war in Syria and the emergence of Isis through the stories of common people.
Since days, the Italian Foreign Ministry reassures his family about his good health conditions. Since days, we read that the Foreign Ministry, in close collaboration with the Italian Embassy in Ankara and the Consulate in Izmir, continues to follow the case with the utmost care and discretion in order to facilitate a rapid solution to the case. Gabriele was supposed to be released and sent back to Italy last Thursday. Italian media reported that he was being detained in a "guest house" in the Hatay province, term that in Turkey was used in the past to refer to what we currently call detention centers for the identification and deportation of migrants.
Yesterday, Tuesday 18 Apr. 17, the team of "On The Bride's Side" shared the following post on social media after Gabriele has been granted the first phone call after 10 days of detention. He said:
"I am talking while four policemen are looking at me and are listening to me. They stopped me at the border, and after having being kept in the center of identification and expulsion of Hatay, I have been transferred to Muğla, to another identification and expulsion center, in isolation. My documents are in order, but I am not allowed to appoint any lawyer, nor I am not told when the detention will end. I am fine, I haven't been harmed but I cannot phone, they have confiscated my phone and my stuff, even if I have not been notified of any criminal charges. The reason of my detention is due to the contents of my work. Accordingly, I have been subjected to several interrogations. I have been able to call only after days of protest. I had not been told that the Italian authorities wanted to get in touch with me. From tonight onwards, I am going to start a hunger strike and I invite everyone to mobilize to demand the respect of my rights".
Responding to Gabriele's call for solidarity, we call for his immediate release and for the recognition of his rights:
– to appoint a lawyer
– to meet the consular authorities
– to make phone calls
– to receive a quick clarification of timing and modalities of repatriation
We reject the legitimation and tightening of controls against both foreign and local reporters engaged in the documentation and circulation of news related to refugees living in border areas, especially since the declaration of the state of emergency. Journalism is not a crime! Calling for Gabriele's freedom, we also call for freedom of press for all journalists and for freedom of movement for all migrants, and we express our solidarity with his struggle to defend the rights of migrants."
#OnGabriele'sSide
#Gabriele'ninYanında
Migrant Solidarity Network / Ankara*
*The text is available in Turkish under the link above