Via Refugee Rescue – This morning (10th November) at 3.47am, Refugee Rescue boat 'Mo Chara' received a request by the Hellenic coastguard to assist in transitioning 17 very distressed and hypothermic people to port.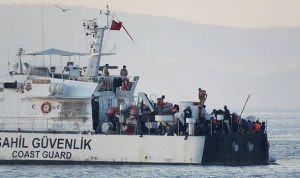 Several arrivals reported that their dinghy – originally carrying 37 people – was intercepted by the Turkish coast guard in Greek waters. It is alleged that a Turkish official fired multiple gun shots into the air before retreating, and then returned to fire shots into the water close to the dinghy, while ramming the boat with their vessel on a number of occasions. 
According to reports by the arrivals, when the Hellenic coast guard vessel arrived at the scene, Turkish authorities were asked to stop firing and those in the boat were reassured that they were now safely in Greek waters. 17 people jumped from their dinghy into the water and swam to the Hellenic coast guard vessel for safety, reporting the Turkish coast guard aggressively attempted to pull people from the water.
Those that were not able to swim from the dinghy to the Hellenic coast guard – mainly women, children and the elderly – were loaded into the Turkish coast guard vessel and taken back to Turkey. Arrivals to Skala report that families were separated as part of this interception!!
This breaks several international maritime and human rights laws. Refugee Rescue does not accept that other humans be treated this way and demands the EU to take responsibility and stop these crimes against humanity.
A full incident report will be published as evidence builds from this mornings tragedy.
---
This text has been published by Refugee Rescue on their facebook page.