** German version below / Deutsche Version weiter unten **
This newsletter has been published as part of the bordermonitoring.eu newsletter, which is – for now – available in German only.
EU-Turkey Deal 
The EU Commission has presented its 7th report on the EU-Turkey deal in September – and celebrates that, according to their estimation, still relatively few refugees arrive in Greece, while almost 10,000 Syrians have been resettled in the EU. In the light of the more than three million Syrians having found their way into Turkey, 10,000 people is a ludicrously little contribution of a political community of 500 million EU citizens. We have already reported on the negative consequences of the dirty deal in our first newsletter.
Since the day the deal came into force, until 6 October 2017, a total of 1,949 deportations have taken place from Greece to Turkey. At the same time, many asylum seekers have been able to file a suit against their deportation and temporarily circumvent it. However, already in September, Amnesty International issued a warning that a decision of the highest Greek administrative court might create a precedent, allowing for a much easier facilitation of deportations in the future. This is exactly what happened: The court declared Turkey a "safe third country" and decided that the asylum claims of two Syrians were "inadmissible". Concurrently, the NGO criticised in a new report that the amount of illegal deportations of asylum seekers from Turkey to Syria is was on the rise due to the state of emergency issued after the coup attempt the year before. According to another report, it is almost impossible for people who have been deported from Greece to claim asylum in Turkey, since they are being detained in "deportation centres" (for a summary see here). Refugees are thus threatened with chain deportations from Greece to Syria. Several organisations are preparing a lawsuit at the European Court of Human Rights against the decision of the Greek court.
Meanwhile, in June, the International Organisation for Migration (IOM) presented two of a total of six "search and rescue vessels" funded by the EU to the Turkish Coast Guard. The remaining four are to follow until the end of the year. EU ambassador Christian Berger and the IOM were eager to frame the project as a humanitarian endeavour by pointing to the potential of saving human lives with the help of the coast guards.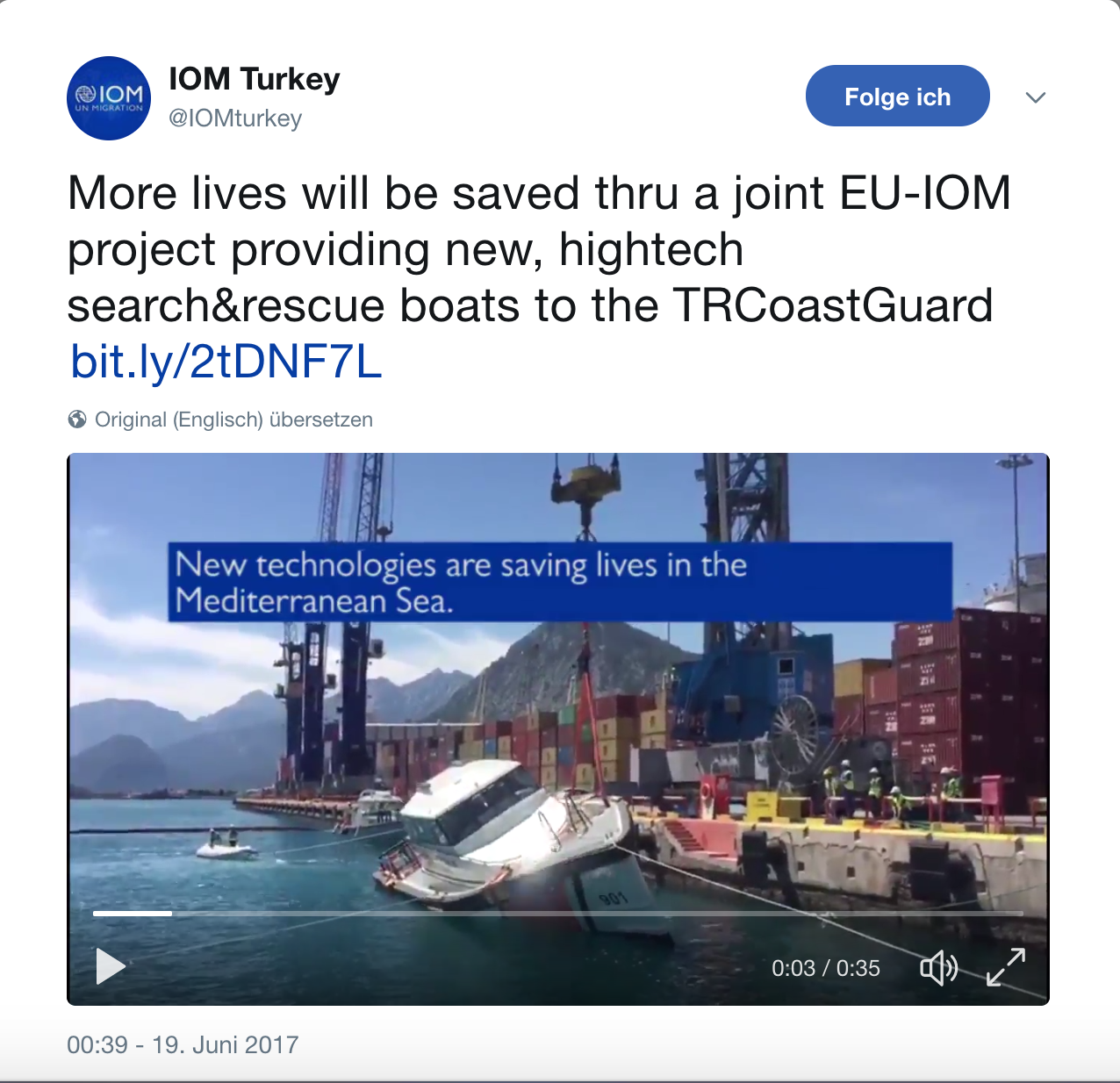 The commander of the coast guard made clear, however, what the actual aim of the cooperation is: "the fight against irregular migration" – which means preventing refugees from getting to the Greek islands via the Aegean. In total, the EU provides 20 Million Euros to the IOM, which, besides funding the boats, will be spent for training how to "counter migrant-smuggling". If the EU and the IOM were genuinely interested in saving lives, they would have to provide more legal migration routes into the EU and not upgrade and upskill the Turkish Coast Guard.
Even though considerably less people have managed to cross over to the Greek islands since the deal, this still happens. Most recently in August, the arrivals increased significantly. Therefore, it is not surprising that the mayor of the Greek island Lesbos accused the Turkish government of not intercepting refugees at the coast, as it had been agreed upon in the deal. 
The film "Sent to their death" shows the deal's negative consequences. It has been produced by a film collective of three Afghan brothers who arrived in Greece a year ago. Fridoon, one of the brothers, collects donations in order to show the film and to fund further productions. The film is an important contribution to showing migrants' perspectives on restrictive EU migration politics.
In July, Lesbos-based activist Arash Hampay chose another form of protest against deportations from Greece to Turkey: by starting a hunger strike, he demanded the release of refugees from the refugee camp Moria, which is fenced-in by barbed wire. V. H. accompanied him for HarekAct.
Living in the ancient city of Assos at the West coast of Turkey, artist Önder Tokuç in turn expresses his critique of the exploitation of Syrian refugees on their way to the EU through his art. We reported about his work in July.
Meanwhile, the NGO Sea-Watch has announced to strengthen its efforts in monitoring the Turkish-Greek sea border and to report on violations of prevailing refugee law under the motto "Monitoring Dirty Deals". And this is fairly necessary: again and again, illegal push-backs by the Greek or Turkish coast guards happen.
Borders to Syria, Iran and Iraq
In the meantime, the Turkish government continues its attempts to block escape routes with walls. Along 731 km of the 911 km long border to Syria, a partially technologically equipped wall has been constructed. In September, a spokesperson announced that the remaining parts of the 828 km long wall would be finished by the end of the same month. But this still does not seem to be enough for the government: already in August, it announced to also construct a 144 km long "security wall" at the 499 km long border to Iran, allegedly in order to block PKK-fighters. The first section is meant to be finished by October. Currently, the government also considers constructing a wall at the border to Iraq.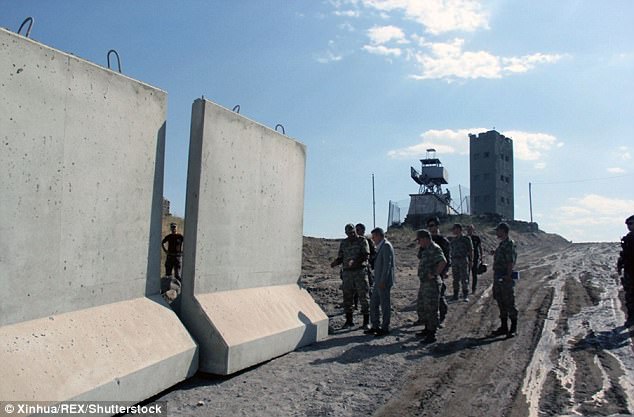 Racism and sexism against migrants in Turkey
Turkish migration researcher Bediz Yılmaz has written about the connections between authoritarianism and xenophobia in Turkey for HarekAct. She criticizes both the governing conservative AKP as well as the social democratic CHP for treating Syrian refugees not as independent individuals, but rather as objects of their politics. As she shows, president Recep Tayyip Erdoǧan uses the Syrians in the country as bargaining chips in negotiations with the EU by threatening to open borders. Whereas the social democrats openly fuel racist discourses in order to gain support by the Turkish workers: CHP chairman Kemal Kılıçdaroǧlu alleged that Syrians were treated as "first class citizens", while Turkish workers were seen as "second class citizens". Having only recently flared up once more, the debate about a citizenship for Syrians, and the racist violence by parts of the majority society accompanying it, play into this situation. The taz Gazete reported about this in August.
Meanwhile, also state officials have been reported to engage in violent attacks on refugees. A group of Turkish soldiers were arrested after beating up young Syrian refugees at the end of July, warning them against crossing the Syrian border to Turkey once again. They even filmed their abuses and spread them on social media.
State and non-state violence is often also directed against refugee women: the Stockholm Center for Freedom reported in July that in several state-run refugee camps women are forced into prostitution. In July, a pregnant Syrian woman was raped and killed in the Northwest of the country.
An overview over human rights violations against migrants in Turkey since 2016 can be found in a report by the NGO Observatory for Human Rights and Forced Migrants in Turkey published in July ().
Announcements
Since 11 October, we report in our new section "Monitoring the EU-Turkey Deal" specifically about the consequences of the EU-Turkey deal for refugees in Greece at the border to Turkey in cooperation with activists on the island Lesbos.
Extensive analyses of the Turkish migration and border regime will be presented by the new issue of "movements. Journal for Critical Migration and Border Regime Studies". It is accessible online for free as an open access journal as well as in printed form at the transcript publishing house. The issue is the outcome of a cooperation between researchers, activists and artists from Turkey, Germany and Austria.
---
GERMAN VERSION
EU-Türkei-Deal
Die EU-Kommission hat im September den 7. Bericht zum EU-Türkei-Deal vorgelegt – und feiert als Erfolg, dass dadurch weiterhin nur relativ wenige Geflüchtete in Griechenland ankämen, während fast 10.000 Syrer_innen in die EU resettlet worden seien. Angesichts der über drei Millionen Syrer_innen, die ihren Weg in die Türkei gefunden haben, ein lachhaft niedriger Beitrag einer politischen Gemeinschaft von 500 Millionen EU-Bürger_innen. Über die negativen Folgen des schmutzigen Deals berichteten wir bereits im 1. Newsletter.
Seit Inkrafttreten des Deals bis zum 6. Oktober 2017 fanden insgesamt 1.949 Abschiebungen von Griechenland in die Türkei statt. Zugleich klagten viele Asylsuchende gegen ihre Abschiebung und konnten sie damit vorläufig verhindern. Bereits im September warnte Amnesty International jedoch davor, dass eine Entscheidung des höchsten griechischen Verwaltungsgerichts einen Präzedenzfall schaffen könnte, der Abschiebungen von Asylbewerber_innen in Zukunft erheblich erleichtern würde. Das geschah dann auch: Das Gericht erklärte die Türkei zu einem "sicheren Drittstaat" und den Asylantrag zweier Syrer daher für "unzulässig". Zugleich hob die NGO in einem neuen Bericht hervor, dass es in der Türkei in Folge des Ausnahmezustands seit dem Putschversuch im vergangenen Jahr zunehmend zu illegalen Abschiebungen von Asylantragsteller_innen nach Syrien komme. Für von Griechenland zurückgeschobene Menschen ist es laut einem weiteren Bericht kaum möglich, einen Asylantrag zu stellen, da sie in "Abschiebezentren" inhaftiert werden (eine Zusammenfassung gibt es bei HarekAct). Geflüchteten drohen somit Kettenabschiebungen von Griechenland bis nach Syrien. Mehrere Organisationen bereiten derzeit eine Klage vor dem Europäischen Gerichtshof für Menschenrechte vor, um gegen die Entscheidung des griechischen Gerichts vorzugehen.
Unterdessen hat die Internationale Organisation für Migration (IOM) im Juni zwei von insgesamt sechs durch die EU finanzierte "Such- und Rettungsboote" an die türkische Küstenwache übergeben. Die restlichen vier sollen bis Ende des Jahres folgen. EU-Botschafter Christian Berger und die IOM bemühten sich, dem Projekt einen humanitären Anstrich zu geben, indem sie die mögliche Rettung von Menschenleben durch die Küstenwache hervorhoben.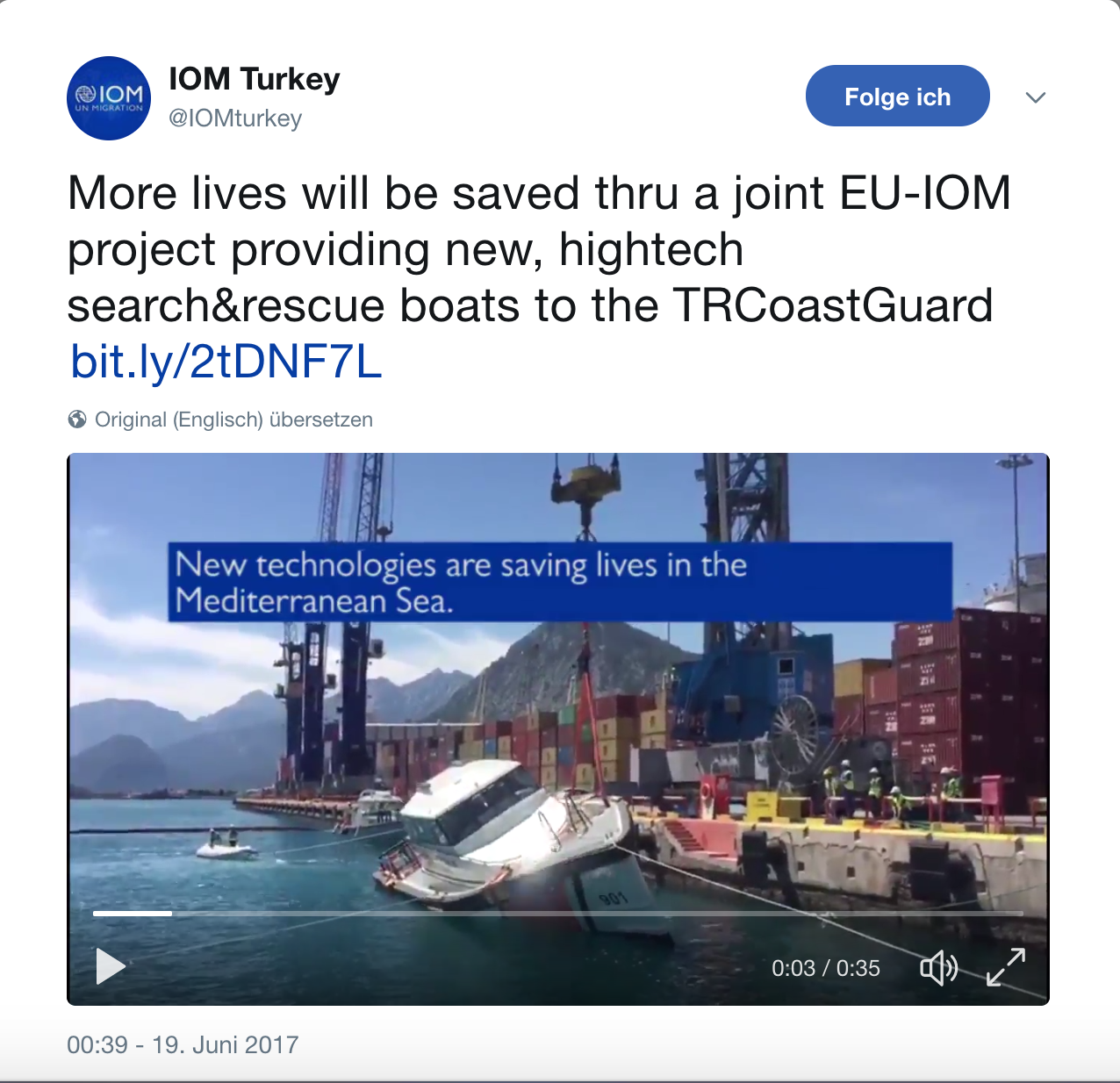 Der Kommandant der Küstenwache machte hingegen deutlich, was durch die Zusammenarbeit eigentlich angestrebt wird: der "Kampf gegen irreguläre Migration" – also Geflüchtete daran zu hindern, über die Ägäis auf die griechischen Inseln zu gelangen. Insgesamt stellt die EU der IOM 20 Millionen Euro zur Verfügung, neben den Booten auch für Schulungen gegen "Migrant_innen-Schmuggel". Würde es der EU und der IOM allerdings tatsächlich um die Rettung von Menschenleben gehen, müssten sie mehr legale Migrationswege in die EU eröffnen und nicht die türkische Küstenwache aufrüsten und fortbilden.
Auch wenn seit dem Deal wesentlich weniger Menschen auf die griechischen Inseln übersetzten, so findet dies dennoch nach wie vor statt. Zuletzt stiegen die Ankünfte im August sogar deutlich an. Und so verwundert es auch kaum, dass der Bürgermeister der griechischen Insel Lesbos der türkischen Regierung öffentlich vorwarf, sie würde Geflüchtete an der Küste nicht abfangen, was ebenfalls im Zuge des Deals vereinbart wurde.
Über die negativen Folgen des Deals berichtet der Film "Sent to their death" von einem Filmkollektiv dreier afghanischer Brüder, die vor einem Jahr in Griechenland ankamen. Einer der Brüder, Fridoon, sammelt Spenden, um den Film vorführen und weitere Produktionen finanzieren zu können. Der Film leistet einen wichtigen Beitrag, um die Perspektive Migrierender auf die restriktive EU-Migrationspolitik zu verdeutlichen.
Eine andere Form des Protests gegen Abschiebungen von Griechenland in die Türkei wählte der Aktivist Arash Hampay im Juli auf Lesbos: Mit einem Hungerstreik forderte er die Freilassung von Geflüchteten aus dem mit Stacheldraht umzäunten Flüchtlingslager Moria. V. H. begleitete ihn für HarekAct.
Der in der antiken westtürkischen Stadt Assos wohnende Künstler Önder Tokuç wiederum drückt seine Kritik an der Ausbeutung syrischer Geflüchteter auf ihrem Weg in die EU durch seine Kunst aus. Wir berichteten im Juli darüber.
Unterdessen hat die NGO Sea-Watch unter dem Motto "Monitoring Dirty Deals" angekündigt, die türkisch-griechische Seegrenze wieder verstärkt in den Blick zu nehmen und Verstöße gegen geltendes Flüchtlingsrecht publik zu machen. Und das ist dringend notwendig: Denn immer wieder kommt es zu illegalen Push-Backs auf See durch die griechische oder türkische Küstenwache.
Grenzen zu Syrien, Iran und Irak
Unterdessen versucht die türkische Regierung weiterhin, Fluchtwege mit Mauern zu versperren. So sind bereits 731 km der 911 km langen Grenze zu Syrien mit einer teilweise technologisch aufgerüsteten Mauer versehen worden. Im September kündigte ein Sprecher an, die verbleibenden Teile der dann 828 km langen Mauer bis Ende desselben Monats fertigzustellen. Doch das scheint der Regierung noch nicht genug zu sein: Bereits im August kündigte sie an, auch an der 499 km langen Grenze zum Iran eine 144 km lange "Sicherheitsmauer" zu bauen, vornehmlich gegen PKK-Kämpfer_innen gerichtet. Der erste Teil soll im Oktober fertiggestellt sein. Weiterhin denkt die Regierung darüber nach, an der Grenze zum Irak ebenfalls eine Mauer zu bauen.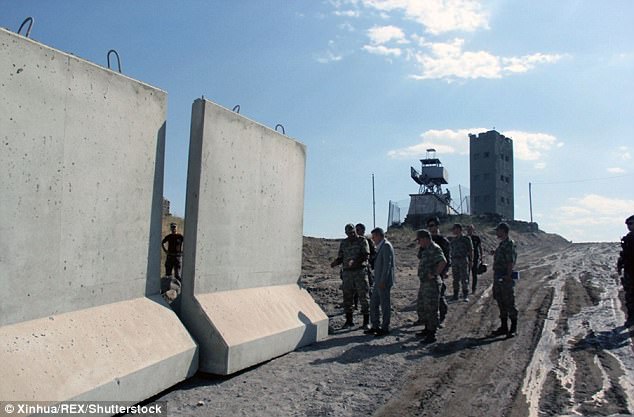 Rassismus und Sexismus in der Türkei
Die türkische Migrationsforscherin Bediz Yılmaz hat sich für HarekAct mit dem Zusammenhang von Autoritarismus und Xenophobie in der Türkei beschäftigt. Sie hält sowohl der regierenden konservativen AKP als auch der sozialdemokratischen CHP vor, syrische Geflüchtete nicht als eigenständige Individuen, sondern als Objekte ihrer Politik zu behandeln. So missbrauche Staatspräsident Recep Tayyip Erdoǧan die Syrer_innen im Land als Verhandlungsmasse gegenüber der EU, indem er mit der Öffnung der Grenzen drohe. Die türkischen Sozialdemokrat_innen hingegen befeuern laut Yılmaz offen rassistische Diskurse, um gegenüber der türkischen Arbeiter_innenschaft zu punkten. So behauptete deren Vorsitzender Kemal Kılıçdaroǧlu, Syrer_innen würden als "Bürger_innen erster Klasse" behandelt, während türkische Arbeiter_innen als "Bürger_innen zweiter Klasse" gesehen würden. Eine Rolle spielt dabei auch die gerade wieder aufflammende Debatte um eine Staatsbürger_innenschaft für Syrer_innen und damit einhergehende rassistische Gewalt gegen diese durch Teile der Mehrheitsgesellschaft. Hierzu hatte im August auch die taz Gazete berichtet.
Unterdessen häufen sich auch gewalttätige Übergriffe auf Syrer_innen durch Staatsbeamt_innen. So wurde etwa eine Gruppe türkischer Soldaten festgenommen, nachdem sie Ende Juli junge syrische Geflüchtete zusammengeschlagen und sie aufgefordert hatten, die syrische Grenze zur Türkei nicht noch einmal zu überschreiten. Sie filmten ihre Übergriffe sogar und verbreiteten sie in den sozialen Medien.
Staatliche und nichtstaatliche Gewalt richtet sich häufig auch gegen geflüchtete Frauen: Das Stockholm Center for Freedom berichtete im Juli darüber, dass in mehreren staatlich betriebenen Flüchtlingslagern Frauen in die Zwangsprostitution getrieben werden. Im Juli wurde eine schwangere syrische Frau im Nordwesten des Landes vergewaltigt und ermordet.
Einen Überblick über die Menschenrechtsverletzungen gegen Migrant_innen in der Türkei seit 2016 bietet ein im Juli erschienener Bericht der NGO Observatory for Human Rights and Forced Migrants in Turkey.
Ankündigungen
Ab 11. Oktober werden wir auf HarekAct unter "Monitoring the EU-Turkey Deal" in Kooperation mit Aktivist_innen auf der Insel Lesbos verstärkt über die Folgen des EU-Türkei Deals für Geflüchtete an der Grenze zur Türkei in Griechenland berichten.
Ausführliche Analysen zum türkischen Migrations- und Grenzregime wird die nächste Ausgabe der Zeitschrift "movements. Journal für kritische Migrations- und Grenzregimeforschung" beinhalten. Online ist sie frei zugänglich sowie in gedruckter Form im transcript Verlag erhältlich. Die kommende Ausgabe ist ein Kooperationsprojekt von Forscher_innen, Aktivist_innen und Künstler_innen aus der Türkei, Deutschland und Österreich.
---