Via BBC – At least 22 people, including a number of children, were killed in Turkey when a lorry carrying migrants plunged off a road, state media say.
The lorry crashed through a barrier and landed in an irrigation canal 20m (65ft) below, in the western province of Izmir.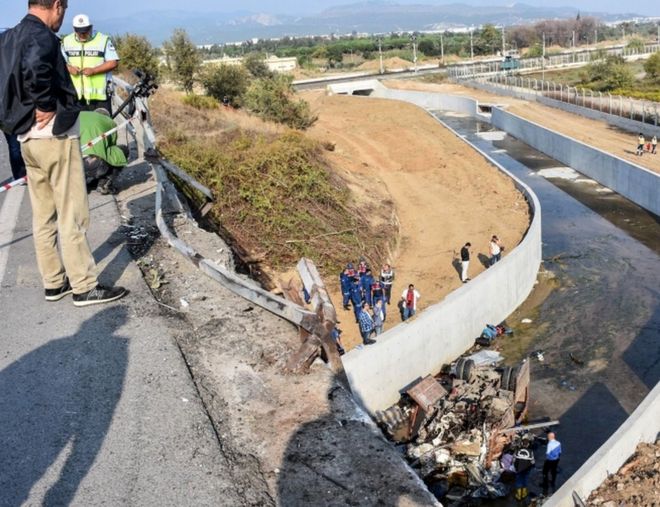 The nationality of the victims was not immediately known.
A day earlier, 11 people thought to be migrants died when their car burst into flames after a crash in Greece.
The lorry was travelling from Aydin to Izmir when Sunday's accident happened, the Anadolu agency said.
It was reportedly taking the migrants to the coast, where they would have boarded inflatable dinghies heading to Greece's Samos island.
In addition to the dead, 13 people were taken to hospital with injuries.
The DHA agency said the 35-year-old Turkish driver had survived the crash and told police he had swerved to avoid an oncoming vehicle.
The agency said that two children and two babies were killed, along with a pregnant woman.
Prosecutors have opened an investigation and said the driver could face arrest after receiving medical treatment.
Turkey is a major transit point for migrants travelling from Syria and other Middle Eastern nations, as well as from countries further east and in Africa.
More than a million migrants crossed into Greece during the peak year of 2015.
But the flow fell dramatically after the EU and Turkey signed an agreement to send back to Turkey migrants who did not apply for asylum or whose claim was rejected.
Nevertheless, the UN says more than 24,500 migrants have made the sea journey from Turkey to Greece this year, with 118 losing their lives.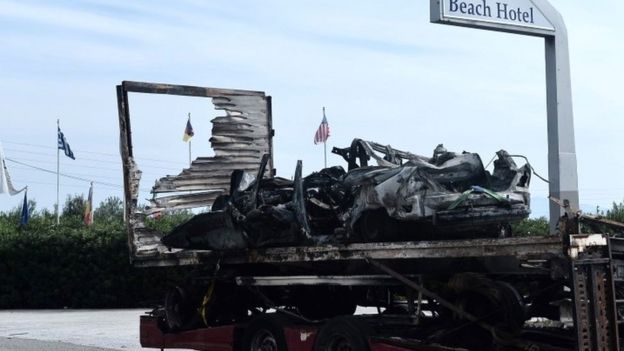 Saturday's crash in Greece involved a car and a lorry, both of which burst into flames after a head-on collision near Kavala in the north of the country. The lorry driver managed to escape without serious injuries.
---