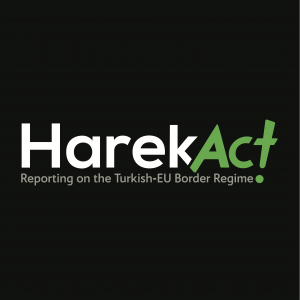 TURKEY'S MIGRATION MANAGEMENT REGIME
Following our attendance at the Kritnet Conference in last May, we finally had the chance to share our contributions in HarekAct. One of our editors focused on the post EU-Turkey deal context in Istanbul, Turkey, which is marked by policies and practices of marginalization, irregularization and criminalization of migrants. The unfavorable conditions in the provision of registration, services and protection, with the implementation of additional mechanisms of securitization, detention and forced deportation, has had the impact of extending the constraints of the global border regime further to directly affect the living experiences of migrants in Istanbul.
In July, Human Rights Watch also published a report on the consequences of Turkey's suspension of registering Syrians in Istanbul and other nine cities along the Syrian border. The report claims that this practice represents Turkey's latest efforts in denying new asylum-seekers protection, following the closure of the borders and the shooting at individuals attempting to cross. Ultimately it is forcing Syrians to live under the risk of deportation, without access to urgent services, and having to depend on smugglers inside Turkey.
Reports reveal Turkey's further plans to engineer the movement of more Syrian populations to the outskirts of Turkey. One of the sources mentions a decision to transfer 34,180 Syrian refugees from five camps to facilities closer to the border with Syria, and another quotes Erdoğan's pledge to create more safe zones in Syria in order to allow refugees to return.
Finally, concerning non-Syrian asylum-seekers, the UNHCR announced the end of the registration and processing of international protection applications by 10 September. This significant and far-reaching decision was announced at very short notice, unexpectedly leaving the authority solely in the hands of the Directorate General of Migration Management (DGMM).
BORDER CROSSINGS BY SEA AND LAND
HarekAct editors' second contribution sheds light on changes in the border regime in the Aegean Sea since the EU-Turkey deal. The article demonstrates how the increased border patrol capacities have lowered the chance of successful sea-crossings, yet have not prevented 'disobedient' border-crossings, which are continuing at a high number (13,000 in total during the first half of 2018); and in between this strife, there have been counter-corrective efforts of civil society, including the monitoring and reporting of human rights violations committed by border control actors.
During the summer months the numbers of sea and land border crossings increased as well as the numbers of lives lost en route to Europe. According to the Turkish coast guard, the number of irregular crossings has increased by 60 percent since the beginning of 2018 in comparison to last year, while 14,470 irregular migrants were stopped trying to reach EU shores. Although the majority of these (13,336) were trying to reach the Greek Islands through the Aegean Sea, reports also point to the opening of a new migrant route to Europe from Turkey through Italy, where smugglers are using sailboats to arrive on the beaches of Sicily at night.
Several migrants also lost their lives after leaving Turkish shores. Following a shipwreck in the Ayvalık district of Turkey, six people, including three babies, died. The boat was carrying 16 people, some of whom were allegedly Turkish citizens linked with the Gülen movement. Following a second shipwreck in August, this time off the coast of Aydın province, 9 people lost their lives, out of 13 in the boat.
On the land route, it was reported that Bulgarian police had pushed back forty-four irregular migrants into Turkey from the Bulgarian-Turkish border in Kofçaz district. The migrants who were apprehended by Turkish soldiers explained that they had been captured three days previously, had been beaten and had had their money and valuable possessions stolen by Bulgarian police before the push-back.
While the irregular migration routes continue to cost numerous lives, Greek authorities are criminalizing organizations or individuals for assisting migrant entry to Lesvos Island. Following similar previous charges, the Greek authorities expanded their investigations to a sum of 30 people including foreign volunteers, and arrested three people in late August, one of whom is the sister of Syrian Olympic swimmer Yusra Mardini. However, arriving to Lesvos is still not a salvation. Refugee Rights Europe published a report on 27 August 2018, pointing out that the situation on the prison island has deteriorated to absolute breaking point. At Moria camp on the Island, workers went on strike to protest overcrowding, with more than 8,300 people living there during the summer months. The appalling conditions reached yet another low: poor hygiene, violence and sexual harassment are commonplace. A report by BBC brought the public attention to the immense mental health problems, with children as young as 10 are attempting suicide inside the camp.
FLEEING FROM TURKEY
This summer, a considerable number of those fleeing from Turkey, either through regular or irregular ways, were Turkish nationals. Escaping from the government's ongoing purge against the opposition, some faced detention or even death en route. In July, at least 8 people were detained on their way to Greece, two military officers with alleged links to the coup attempt got caught with their families in Bodrum, and a teacher was caught in Edirne. When a boat carrying Turkish civil servants fleeing the crackdown capsized in Evros, a mother drowned with her three children. In August, Turkish gendarmerie rounded up a group escaping Turkey on the border with Greece at Edirne, and detained another three young professionals (a doctor, a teacher and a web-developer) who were attempting to cross the border illegally, having lost their passports in the post-coup crackdown. Another person who had been banned from leaving the country, Leyla Birlik, a former Kurdish MP for HDP, made it to Greece and declared her intention to apply for asylum following her arrest by Greek police for illegal entry in the border town of Orestiada.
The incidents above are part of a larger flow of Turkish citizens leaving their country, confirmed by statistics. According to numbers published by the Turkish Statistical Institute (TurkStat) in September, emigration from Turkey increased by 42.5 percent in 2017 compared to the previous year, with 253,640 people leaving the country, more than 40 percent of them aged between 20 and 34. Likewise, the statistics of Germany's Federal Migration and Refugee Department shows that the number of Turkish citizens granted asylum in Germany doubled in comparison to last year, reaching 4,089 in the first six months of 2018.
TURKEY NEITHER SAFE NOR WELCOMING FOR REFUGEES
Alongside hosting conditions providing extra risks rather than protection for Syrian and non-Syrian asylum-seekers, and the deteriorating local situation which is forcing not only foreign but also Turkish citizens to flee, hatred and frustration is still being targeted primarily at migrants in Turkey. Discrimination is becoming move visible in the districts where migrants, particularly Syrians, are living and working more densely, such as when the officials from one Municipality in Istanbul removed Arabic signs from shops. On similar occasions in early September, a street fight between two groups in Elazıg created great tension between locals and Syrians, resulting in the displacement of Syrians from the district by an order from the Mayor, and another fight in Bursa's commercial district led the Turkish crowd to attack Syrian-owned shops and houses and shout slogans against Syrians.
Academic studies also highlight the prevalence of discriminatory political, social and cultural discourses and practices against Syrians in Turkey and reveal that such discourses and practices are related to the current political environment, as well as the complex and problematic interactions between Turkey and Arab countries in the past. With no exception, racist and discriminatory sentiments have cost the property, safety, health and also lives of migrants rather than the host community. Back in 2016, two Ugandan sisters were the target of brutal sexual violence, in which one of them lost her life. Owing to the insistent follow-up of feminist solidarity groups on the case, good news finally arrived last July that the two perpetrators have been sentenced to lifetime imprisonment.
Considering the recent conditions for migrants both inside and fleeing from Turkey, which are not new, nor represent any improvement on the past, it is vital to gather voices for the joint call of the Deportation Monitoring Aegean and Legal Center Lesbos to stop deportations to Turkey. This call is urgent on the grounds that Turkey is not a safe country.