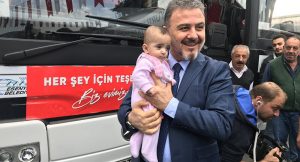 Here we are posting an interview with the mayor of Esenyurt municipality of Istanbul, Turkey. Esenyurt is a lower-class peripheral  district with one of the highest number of Syrians in Istanbul. The information was spread already a while ago that the municipality is organizing busses to drive Syrians back home, creating fear within the Syrian community that they will be picked from their houses and streets and forced for return. Below, the mayor's statements quoted just as they were broadcasted by Sputniknews apparently demonstrate the perspective of the Turkish regime pretty well.
---
Via SputnikNews
Elif Sudagezer from Sputnik News reported that Esenyurt Municipality of Istanbul, Turkey repatriated 100 Syrians to Jarabulus and Afrin. By the interview he gave to Sputnik, Ali Murat Alatepe stated that 3500 Syrians were returned up until now and they are planning to return 20 thousand more until the end of the next year.
The interview with the mayor was conducted during the "goodbye ceremony" which was organized in front of the Esenyurt municipality for the 16 Syrian families to return, who would then be sent to Syria through the municipality's buses that depart right away from there. Alatepe said "Today we are sending off around 100 people to their homes. This is the 15th convoy. While we were visiting door-to-door, begging and soliciting to find people to return their country at the beginning of this process, now we are sending off three busses full of our Syrian guests"
Alatepe "As local authorities, we are supporters and implementers of our respectful president's statement that "people will return home as it calms down hereabouts'. We have a team of 100 people and already 80 families are waiting in our lodgings. We are working in collaboration and authorization of both AFAD and Turkish Red Crescent. Often we send Syrian families to Jarabulus and Afrin. Because it relaxed there"
"Until today the number of returnees reached at 3500, we will reach at 5000 until next year and 20 thousand by the end of next year. Through the coordination we built with Turkish Red Crescent, they go right at the gates of their houses.  The returnees are very happy and this increased the returns. They go and say 'come over, here is good, trade is also fine here'. Those who return may become our trade partners in the future, I think they will have grate economic contribution to us. In Esenyurt there are around 65-70 thousand people [Syrians] living but we consider it 100 thousand, because there are those who come to work during the day as well."
Alatepe explained the process to Sputnik as "This also has a good side, there are Syrians who had bought apartments due to the low prices at their arrival. Those people had works as well, they became self-sufficient. But they as well send a part of their families. Because it is closer, an intensive return could be facilitated from cities in the region, such as Gaziantep, because there are camps at the other side of the border. However here, people get out from their houses and go, the fairwells are also difficult, our people got used to, but we promise two things while doing this. If we see from Syrians' perspective, they should know that they will go, they are guests here. They shall go and take care of their country.
Alatepe continued: "There is nothing else to say here than greeting our soldiers with respect. We made very significant effort; first and foremost our president. And then our own people, because we are a district with intense Syrian presence, after a point there is a problem of digestion, therefore we have to tell our compatriots: 'calm down a little, they are going'. Because no one can accept sitting at home and hearing the news on martyrs and going down and finding a Syrian smoking shisha at their door. There is also a culture Syrians are living, that doesn't very much fit to us a lot."
The report involved a statement from a Syrian on the way home as well, 36 year old Leyla told "Of course I am happy to go back to Syria. My life in Turkey was also very good."
**The interview quoted above was conducted by SputnikNews and therefore the opinions stated in the text does not reflect HarekAct's perspective (also, the linguistic errors belongs to the original text). You can find the full text of the article in Turkish at SputnikNews