Via Kurdistan 24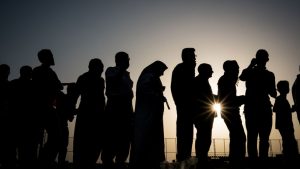 ERBIL – Iraq's Ministry of Displacement and Migration on Thursday stated that they had brought back hundreds of Iraqi nationals who had fled to neighboring Turkey over the past few years as refugees because of Islamic State (IS) threats.
Following the emergence of IS in 2014 and its violent spread over the province of Nineveh, hundreds of thousands of people fled to the Kurdistan Region, Syria, and Turkey. The number considerably increased in the years after as the fight against the jihadist group intensified.
Since the defeat of IS last year, the Iraqi federal government has been working on helping refugees outside of Iraq voluntarily return to liberated areas.
The Director-General of the Ministry of Displacement and Migration, Star Nawrouz, said in a statement that his ministry, in cooperation with the Ministry of Transport and the Center for the management of joint crises, had returned 327 Iraqi refugees to the Kurdistan Region from Turkey through the international border crossing of Ibrahim Khalil.
Almost all the refugees are from inside and surrounding areas of Mosul. Iraqi authorities would soon provide buses to transport them to their homes in the eastern and western suburbs of Iraq's second largest city, the statement added.
The return of Iraqis to their homes from neighboring countries is part of the "free voluntary return" program, Nawrouz explained.
He noted his ministry, working with the UNHCR, provided food and drinking water to those making their way back to Iraq.
In August, Iraq brought back more than 100 of its citizens who were in Turkey, whether fleeing the violence or who had been seeking refuge for some time.
Over the past few years, the Kurdistan Region has been home for some two million Iraqi displaced people and Syrian refugees.
The Kurdish semi-autonomous region continues to host 1.4 million displaced individuals as many of them refuse to return to their liberated areas due to a lack of security and basic services.
This article was originally published by Kurdistan 24