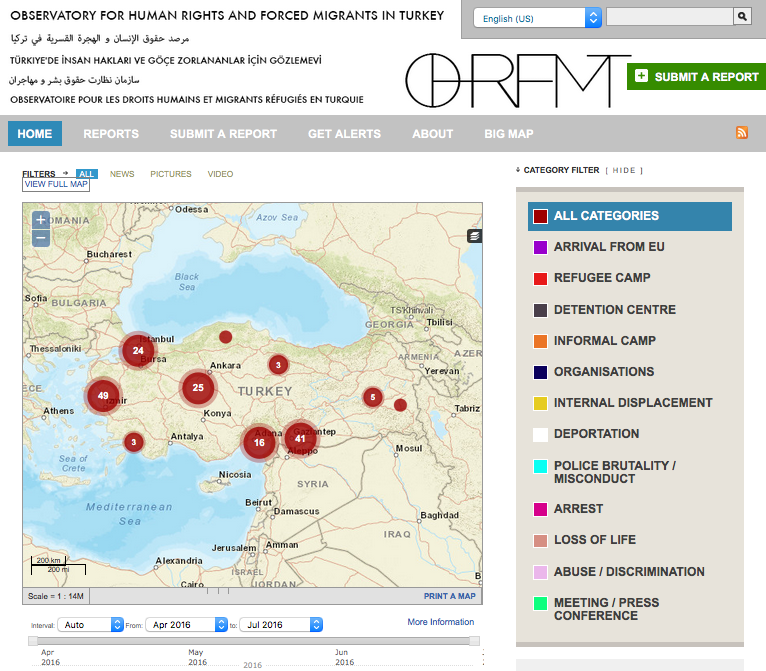 Following the EU-Turkey statement in mid-March 2016, and the first implementations of the EU-Turkey deal on April 4th, the fate of migrants in both Turkey and the EU seemed increasingly under a vail uncertainty. As many INGO's, institutions and local groups working in migration hotspots around Turkey condemed the deal, and questioned its legitimacy and legality, a need to collect information concerning arrivals from the EU, unlawful detention, possible breaches of human rights and much more became apparent. As a response to this need, the Observatory for Human Rights and Forced Migrants in Turkey – OHRFMT – was founded.
OHRFMT is a multi-lingual mapping platform that collects information relating to the plight of migrants in Turkey. The overarching aims are twofold: (a) to monitor events affecting forced migrants in a country that already experiences important challenges vis-à-vis the respect and upholding of fundamental human rights, and (b) to develop an authoritative visual database on the quickly evolving situation experienced by forced migrants post-EU-Turkey deal. Using the approach developed by crisis mapping experts, OHRFMT utilizes Crowdmap to transform written reports and statements into a visually-accessible geographic representation available to all who wish to consult it. Information added to OHRFMT's map has various origins; from social media sources, news articles and reports to eyewitness testimonials and informants living or working in migrant hotspots. When possible, OHRFMT seeks to validate information by means of either two-step or triangulation verification.
OHRFMT is a volunteer initiative, with an administrative body comprised of researchers, human rights advocates and activists whom work closely with migrant communities or are part of the migrant community themselves. Still in its infancy, OHRFMT is actively looking to expand its number of members, contributors and partners.
Visit OHRFMT here: https://ohrfmt.org/
---
The views and opinions expressed in the articles published on HarekAct are those of the authors and do not necessarily reflect the view of all editorial board members.