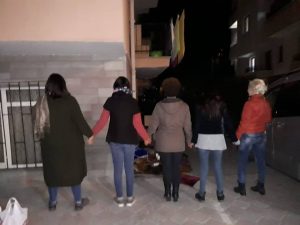 Derya, a woman asylum-seeker from Iran and a survivor of SGBV has been demonstrating in front of UNHCR Ankara office since one month now. UNHCR has already left the authority of refugee status determination totally to Directorate General of Migration Management on September. However, many refugees like Derya has filed their asylum applications earlier to UNHCR and expecting to receive attention and possibly a positive answer of resettlement to a third country from the international institution. Derya's resistance has been brought to public attention in Turkey through some news covers and solidarity attempts of feminist groups. Here we put together Derya's story through the humanitarian lawyers and her own account.
Accoding to Dicle Var from Evrensel News, Derya's request for resettlement is neglected by UNHCR although she has fled from her family's violence in Iran, and is claiming to not have life security in Turkey as well. As her sit-in protest in front of UNHCR has been brought to media, lawyers from Refugee Rights Center of Ankara Bar Association and International Women Solidarity Association (UKDD) took action for her. However the lawyers were let neither in the UNHCR building, nor to negotiate with the authorities, they were instead referred to Human Resource Development Foundtion (IKGV, a local implementing partner of UNHCR). The officers from IKGV confirmed that they are following Derya's case, and added that she has psychological problems and she has to stay in Turkey and do the things that are necessary to adapt to normal life. The lawyer Çelik (from UKDD) condemned the attitude of the IKGV and pointed that such institutions do not have a women's rights based approach towards women refugees, therefore she will keep on supporting Derya's struggle and bring it to agenda in different platforms.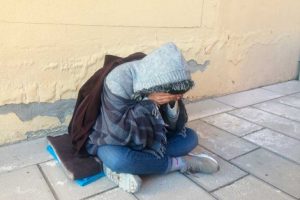 Followingly, a group of feminist activists from Woman Defence (Kadın Savunması) approached to Derya on 11th of November while she is continuing her protest in a car park across UNHCR Ankara branch, sitting on blankets and reading her book.
Back in Iran, Derya was studying in the univerity, she finished the undergraduate school and she continued one more year secretly for a graduate degree. But when her brother found it out, he forced her to leave the university and marry an older man. She refused and he wanted to kill her, that's how she runaway from Iran:
"I came to Turkey twice. My brother wanted to kill me. I runaway to another city of Iran. I got lost and scared. I thought my brother will find me. They would find and kill me in Iran. I came to Turkey. I stayed 4-5 days. My mom got sorry, she cried. She told me 'turn to Iran and live in another city secretly'. I returned for my mom, and stayed in another city in Iran for 22 days. My brother again found out that I was there. So I got a ticket and fled. Iranian police didn't say anything at controls. It was like a miracle.
I'm in Turkey since two years and two months. At the beginning, I lived in Balıkesir. It was very difficult to live there. I rented a house and went to work. I was working in a restaurant for 15-16 hours. When I contacted my mom, my brother learnt that I was in Balıkesir. I came to Ankara. I stayed in the street for one month. Afterwards I went to women's shelter. I stayed 4 months in the shelter. Meanwhile I was subject to voilence by a girl in the shelter, I got a doctor's report. I had already gotten sick and I was using medicines. I left there as well. Today it's 25 days since I'm in front of UNHCR. I requested them to send me to a third country but I still could not receive an answer. I went to presidency complex three times. I went to AKP (Justice and Development Party) and filed a petition. Now my brother knows that I'm in Turkey. He is beating my mom and trying to learn 'where is Derya'. My brother sent me a text 'I will kill you, your homicide is obligatory' [a religious reference]. I am so afraid because I have no life safety at the moment. I'm stayin in the street now in very very difficult conditions. The weather is cold, there is no bathroom, no toilet, but more important than that there is no life security."
Derya has a single demand, going to another country, doesn't matter which one, she wants to be resettled to a third country as soon as possible, as she says. She explains further the problems she has faced in Turkey for two years:
I had even no money when I first came to Turkey. UN [UNHCR] has sent me to Balıkesir [as satellite city]. ASAM [another local implementing partner of UNHCR] sent me off to a family, because I have no place no money. That family demanded something from me. 'You are staying at our house you have to give its cost' they said. They told me some sort of offers. So I left the house. I had to move into a very cheap and crummy house. It was a house with heating stove and no security in the neighborhood. I got no furniture or money. I had bronchitis and asthma afterwards. Doctor prescribed medicines. I could not get them regularly as I didn't have enough money. One and a half year has past like this. Then my brother learnt that I was there. Then I came to Ankara. I worked but the boss did not give my money, I was kicked out of home. I stayed in the street for a month. Finally I went to the shelter. When I went I was already stressed and sick. The threats from my brother continued while I was staying there. My mom was always exposed to violence. My psychology was influenced. Everything seemed so difficult. It was never clear when my brother would come. I always remained in uncertainty. The doctor always increased the dosage of my medicine. Finally she said 'without changing your environment these medicines cannot treat you'. I spoke and now I'm not using medicines. Of course I'm still stressed and afraid."
Finally she was aked what is her message to Turkish and Iranian women:
"Until now I thought a lot what I want. I don't know who is hearing what am I talking. Maybe Turkish women, maybe Iranian women, maybe people from all the world. I ask them please support me. Don't leave me alone. Because a person lives so difficult while alone. I feel myself alone and sometimes cry. Still I'm hope for myself, I say the life is difficult but wait. I know these difficulties will pass. I won't show the sorrow in my face. Who is hearing this? I ask please from women to support me."
This article is composed with the information gathered from the reports by Evrensel News and Woman Defence,  and translated and edited by HarekAct.