5th – 12th August

Update on the Deportation of Syrians | Anti-Syrian Discrimination | Turkey's plans in North Syria
News & Reports
Update on the Deportation of Syrians
The solidarity initiative 'We want to Live Together' (Birlikte Yaşamak Istiyoruz Inisiyatifi) have released a comprehensive report, entitled "Two Weeks of Deportations" which details a few accounts of the deportations, forced signing of voluntary return documents and ill-treatment of Syrians at the hands of Turkish armed forces which the Governorate and Provincial Migration Management Authorities continue to deny. The Turkish version of the report can be found here, and an English version is forthcoming. A summary of the report includes –
The Syrian Associations' Platform stated that 3,000 deported persons approached them in July alone. The Istanbul Bar Association's Legal Aid Bureau reports a 3.5 times increase in deportation cases.  
In the months of July and June 2019 respectively, 6,160 and 4,370 Syrians were registered as having been deported through the Bab Al Hawa border crossing.
Reported breaches of human rights include –
A man who, despite living in Gaziantep where his temporary protection was registered, was forced to sign a voluntary return document, and was then deported.
A trans person with temporary protection in Istanbul who was deported and handed over to Al Nusra after going to hospital with an Iraqi friend. They were subsequently sentenced to death by Al Nusra, and there is no current information on their situation.
'We want to Live Together' campaign write in the report –
"Such practices risk creating irreparable mistrust between communities, and signal the formation of informing mechanisms which can deeply damage the sense of living together. If there is any one community within a country which is afraid to leave their home, no one can feel safe in their own home."
Other news reports highlight the continued fear of waiting for deportation.
Separately, on 10 August, the Governor of Istanbul announced that 20,000 Syrians had been relocated to different provinces in three weeks and that 3,346 unregistered Syrians have been sent to camps. He did not say whether or not they had been deported.
The Mayor of Esenyurt announced that they plan to repatriate at least 100 Syrians every month. He also stated that the total number of returnees from Esenyurt has reached 5,500 so far. According to police sources, there are currently 120,000 Syrians living in Esenyurt, 50 percent of whom are registered in the district and 50 percent who have IDs from other places.
Esenyurt Municipality prepared a banner which reads "Suriyelilerin Dönüşü başladi" ('The return of Syrians has begun') and claims that Istanbul Metropolitan Municipality are supporting Syrians who want to voluntarily return to Syria. The sign seems to legitimize and encourage the unlawful deportation campaign.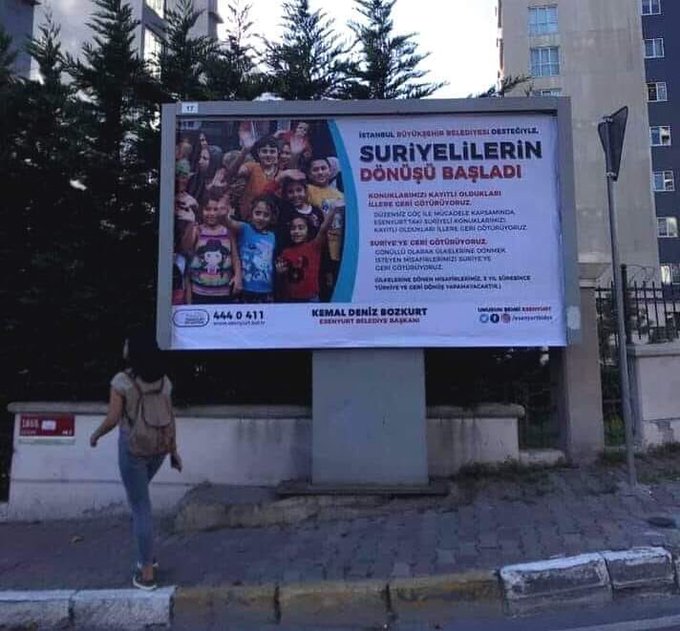 The EU has still not reacted to reports of human rights violations against Syrians in Turkey. On the contrary, they are continuing to support Turkey's migration management regime financially. On 6 August they announced an additional €127 million to the Emergency Social Safety Net (ESSN) program, which provides cash assistance to Syrian families with special needs, via the EU Facility for Refugees in Turkey. This new funding brings the total EU contribution to the program to €1.125 billion.
Continuing anti-Syrian discrimination
Meanwhile the anti-Syrian discrimination which continues to invade everyday life is not being punished by the legal justice system. The shop owner who hung up the now infamous sign "Syrians, Iranians & Afghans who enter the shop could be beaten" was initially fined TL 1,000, but this was further downgraded to a warning since he 'showed remorse', and claimed he was "psychologically affected by anti-refugee news." The court case is ongoing for invoking public hatred.
Turkey's plans in North Syria
According to the Wall Street Journal, the Turkish government is working on a plan to relocate 700,000 Syrians to territories that it is planning to seize from a U.S.-backed Kurdish group in northern Syria.
On 7 August Turkish and US military delegations agreed to establish a joint operations centre to oversee the creation of a 'peace corridor' along the Turkish border in northeast Syria, a buffer zone between Turkey and US-backed Kurdish forces. They also reportedly committed to a 'concerted effort to allow Syrian refugees to return to their homeland,' although the wording of this is so vague that it's unclear what it means in practice. On 12 August, 90 US military personnel arrived in Şanlıurfa.