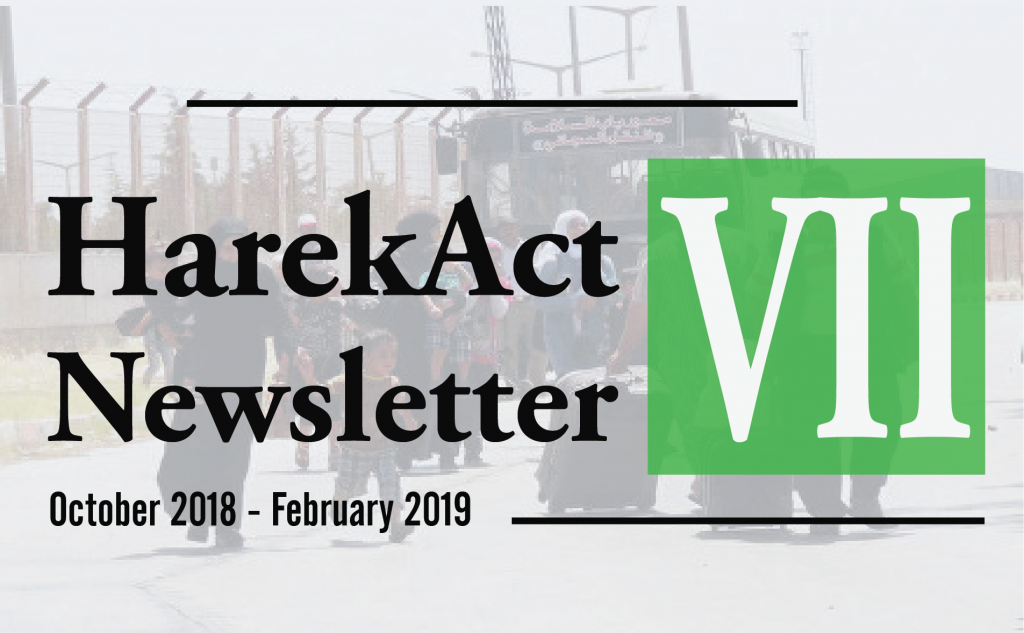 HIGHLIGHTS ON HAREKACT
In November 2018, HarekAct was invited to participate on Istanbul's Açık Radyo (Open Radio) program called Hamişden Sesler (Voices from Hamisch), where our editorial board member Pelin had the chance to explain the motives and intentions of HarekAct (in Turkish). In December 2018, HarekAct closely followed the ongoing court case into the murder of Nigerian national Festus Okey, which was reopened after 11 years. Pelin Çakır wrote an extensive article for HarekAct about the murder, the legal pitfalls in the case and how the case was reopened following a long struggle by Festus' comrades and supporters who did not cease to demand justice for him. We also published a summary of media coverage of the case and a joint solidarity statement, released by a coalition of several groups of activists and human rights organizations.
MIGRANTS ARE NOT WELCOME IN TURKEY: FROM VIOLENCE AGAINST MIGRANTS TOWARDS THE DISCOURSE OF REPATRIATION
Another significant situation which we tried to shed light on through our reporting is the ongoing violence and hatred directed against migrants throughout Turkey. In December a Syrian child was robbed and stabbed in Gaziantep. The attacks continued in 2019 when a child died after she and her family were attacked in Gaziantep; and a fight between two groups quickly turned into a mass assault on the Syrian community in Istanbul's Esenyurt District. A video of Syrians celebrating the new year on Istanbul's Taksim Square, waving Syrian rebel flags and chanting slogans against Assad, sparked debates on social media under the hashtag #ÜlkemdeSuriyeliİstemiyorum (I don't want Syrians in my country). The Turkish Interior Minister Süleyman Soylu responded to this outrage in an interview in which he tried to counter the xenophobic sentiments by promoting a similarly problematic historicized imagination of the brotherhood of religion and of Turkey being in arms with the Syrian people.
Alongside these individual events, we re-published more detailed reports on these developments: an article on the situation for Afghan refugees, particularly in regards to the labour market in Erzurum, an analysis on the growing violence against Syrians throughout Turkey and another piece illustrating the living conditions for Syrians, ascertained through several interviews.
Possibly in a response to these growing xenophobic tensions, the Turkish government continues to pursue the organized repatriation of Syrian nationals back to Syria. An interview by Sputnik News with the mayor of Esenyurt, a peripheral district of Istanbul with a large population of Syrian refugees, which is actively sending Syrians to Afrin and Jarabulus, illustrates the perspective of the Turkish regime on this issue. Closely connected to the repatriation of Syrians is Turkey's plan to create a safe zone along its border with Syria, which, according to the Turkish President, 'would allow millions of Syrians to return home'. In line with this discourse of 'successful' repatriation, there is consistently high media attention on 'irregular migrants'. Turkey's state-run news agency 'Anadolu Agency' provides frequent reports on the updated number of irregular migrants who have been detained or deported. In a commentary piece we showed that Anadolu has been providing contradicting numbers on the 'irregular migrants' held by Turkish authority across the country and it reports on the issue much more frequently in English than in Turkish. We suggest that these reports are serving to spread fear among migrant readers and to demonstrate that the Turkish state is able to control 'irregular migration'.
In November, the Turkish government shut down 6 refugee camps along the border with Syria due to 'austerity measures' affecting over 130,000 Syrians, who were either moved to other camps or had to find housing with the help of allowances provided by the government. While the Turkish state is providing increasingly restricted services for refugees, the European Court of Auditors published a worrying report claiming that a large part of the money paid by the EU to Turkey in the frame of the EU-Turkey Deal had been wasted due to a lack of efficiency and effectiveness. Furthermore, they were unable to trace 1 billion of the total 3 billion EUR paid to the Turkish state with the aim of supporting refugees living in Turkey. Not only is the 'voluntary return' of Syrians back to their home country being forcibly pursued by the government, but in October 2018 the Guardian reported on the illegal refoulement of Syrians, who were trying to enter Turkey from Syria.
PUSH-BACKS AT THE GREEK-TURKISH SEA AND LAND BORDERS
The number of sea crossings remained high in 2018 with a total of 32,497 migrants crossing to the Greek Aegean Islands. In 2018 at least 174 people lost their lives in their attempt to seek safety in Europe, according to IOM's missing migrants project. In Mid-January 2019 the Turkish Coast Guards rescued 46 migrants and had to recover the body of a 4-year-old girl, whose father claims that the Greek Coast Guard had pushed back their boat: "There were strong waves. We thought they came to save us. They told us to cut the engine. They tied our boat to theirs with a rope, and then they started to turn us in circles. It was so inhumane. They tried to kill us," he told Hurriyet Daily News.
The developments at the Greek-Turkish land border along the river Evros are no less concerning. In October 2018 three female migrants were found murdered on the Greek side of the border and later last year three migrants froze to death in the Evros borderspace and were found in separate border villages in Turkey's northwestern Edirne province. In addition there were several reports in Turkish and international media about the illegal pushbacks carried out by Greek law enforcement, which are well summarized in a recent report by Human Rights Watch.
In October 2018, HarekAct published a short film on the life of refugees in Lesvos. Lately, HarekAct has shifted its focus closer towards the developments in Turkey and all border regions surrounding the country. Prior to this, HarekAct had been covering many of the developments on the Greek Aegean Islands, which are rather being covered by the new bordermonitoring project 'Deportation Monitoring Aegean' since last summer. For further in-depth information on the Aegean Islands we recommend checking the homepage of the Legal Center Lesvos.